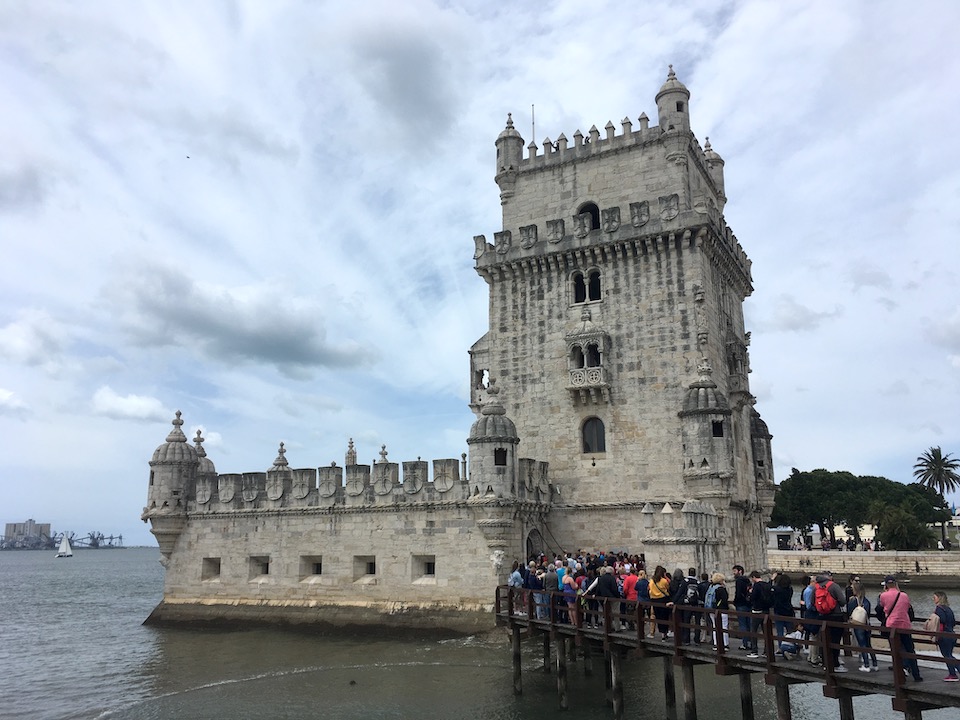 We decided to begin our circuit of Iberia in Lisbon for mostly financial reasons. Tickets from Portland were running around $600 cheaper per person here than to Madrid. I suspect the price difference is thanks to the Lisbon airport's many failings: it has only one small terminal, so passengers are bussed from their planes to passport control; then they get in line with a few hundred other travelers to wait for the three customs agents working out of a dozen stations to stamp their passports. Coming at the end of an already overlong journey—we were delayed five hours in Portland after a part of the plane related to deicing failed just before takeoff—the experience seemed comical. Other travelers weren't so amused.
This was not my first time in Portugal, but the visits I made as an exchange student were all to Valença, a city just across the river from Galicia where Gallegos would go to take advantage of the pre-Euro exchange rate and load up on furniture, towels, and sometimes diesel. My only impressions of Valença were that it seemed dirtier than most Galician cities and had an awful lot of linens shops.
Basically, I came to Portugal on this trip as a total newcomer. I like it, even though Lisbon has been entirely taken over by mass tourism. It's a beautiful city, situated on the wide estuary of the Tagus/Tajo/Tejo river, climbing up seven steep hills. Its streets are works of art, paved in wild patterns of white and black stone that make for slippery, uncomfortable walking but are pleasant to look at. In May there are birds everywhere—Deanna and I both got hit—and the jacaranda trees are absurdly purple. Street art abounds, as does ugly tagging. The buildings are an anarchic blend of rococo excess, buttoned-down neoclassical severity, and occasional hints of the city's Moorish past.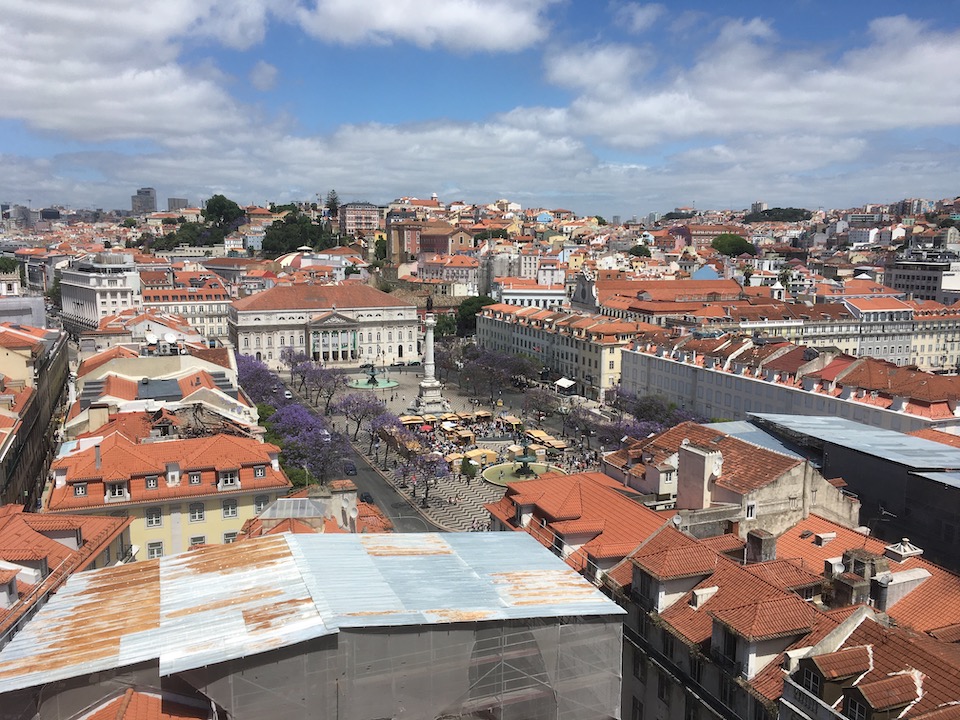 And then there are the crowds. I've never been in a city quite so abandoned to tourism. Only Paris and New Orleans approach it. (Las Vegas, a theme park pretending to be a city, doesn't count.) No one seems to live in the flat Bairro Baixa anymore. Its streets, named for professions, are wholly given over to restaurants and gift shops. Parts of the city's quirky public transit infrastructure, which includes elevators, escalators, street cars, funiculars, and a metro, are completely unusable thanks to the hundreds of travelers who queue up in stifling heat for a chance to ride a rattling, un-air-conditioned streetcar to no place in particular. The Santa Justa elevator, a 117-year-old white elephant, has long since been abandoned by the people who live here; they take the escalator in the metro station a couple blocks away, leaving the cruise ship groups to wait in the sun for a chance to pay €3 for a 30-second ride up a rickety metal tower. When we arrived at the Jeronimos Monastery in Belem, probably the city's biggest sight, the crowd completely filled the vast square in front of the building.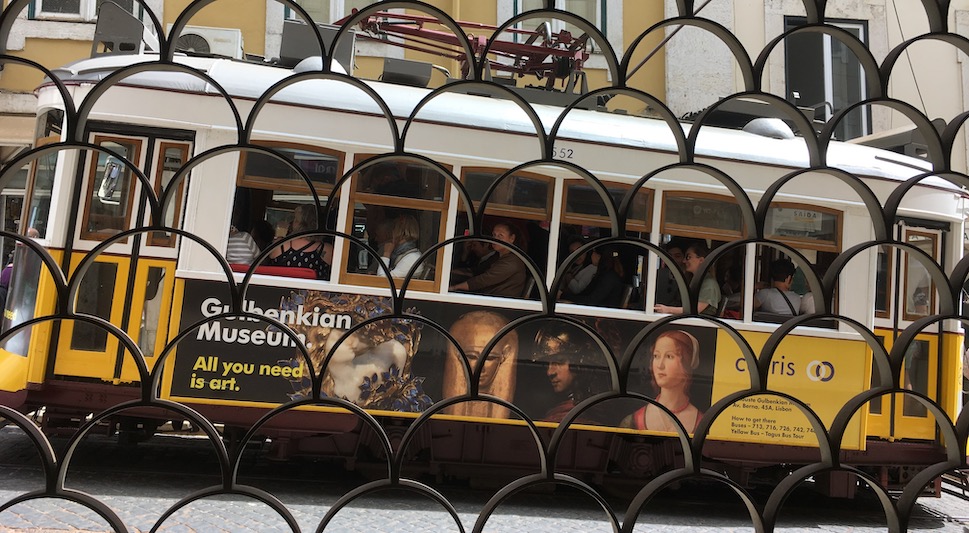 If you walk far enough, you can start to see the living city of a half-million people that exists around and parallel to the international mob of travelers. In Mouraria and the Bairro Alta, which require more climbing to enter than most travelers will muster, Lisbon's remarkable cultural diversity begins to show. We found streets full of Nepali restaurants a few blocks away from a square full of Angolan and Mozambican people hanging out and gossiping just down the road from a cluster of Chinese shops. The city feels much less segregated than Madrid.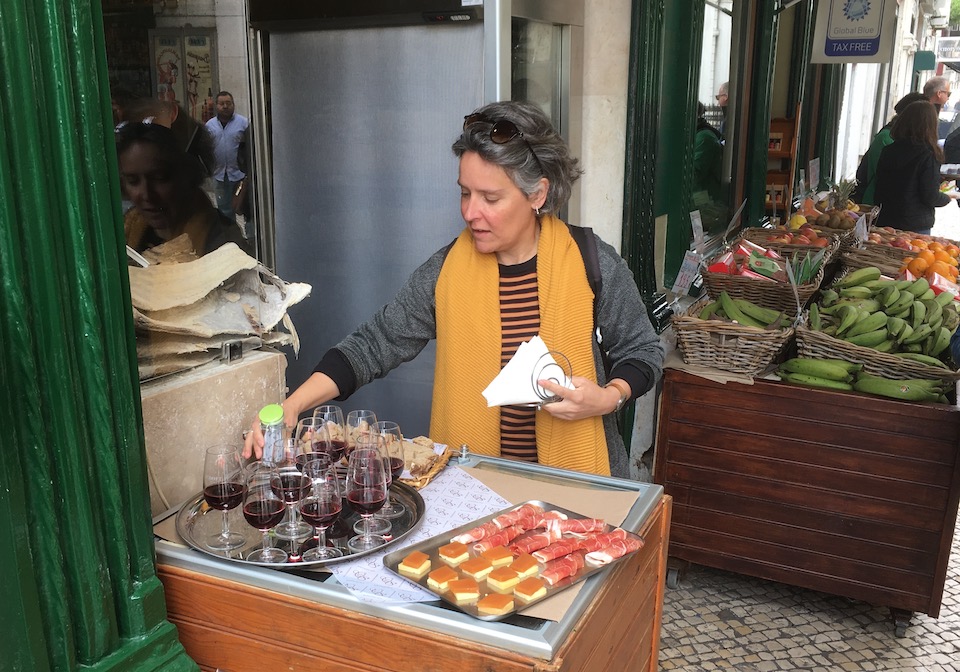 We got a literal taste of the neighborhoods beyond the tourist circuit on an excellent food tour with Silvia Olivença, a Lisbon native who leads small groups on a stomach-stretching haul through the Baixa, Mouraria, and Alfama neighborhoods, with regular stops for wine, codfish, more wine, Mozambican curry, more wine, etc., etc. Silvia was a terrific guide and an all-around fascinating person. If you go to Lisbon, book her tour at suckmycod.com. Yes, that's really her professional domain name.
We spent a full week in Lisbon, and while we saw just about everything in our guidebooks, I feel like we got only the barest taste of what city life is like for residents. I'd love to return in the low season, if it exists, and spend more time getting to know the people. Even if it meant having to deal with the airport again. Here are some highlights from our stay.